The Hotel Management program covers two full-time courses which offer an immersive experience in hotel, catering and other affiliated industries. These courses prepare you to take on any of the five core branches in hospitality – food production, food and beverage service, front office, in-room dining and housekeeping.
Here is an outlay for our course and programs:
In this course, we provide a complete overview of all facets of the hospitality industry, management and communication skills. We begin with structured programs in food production, before delving into the other four branches covered under hospitality.
From a management perspective, we equip our students to learn about human resources management, operations management, hospitality laws and managing information systems at the workplace.
The hospitality industry covers operational and supervisory roles in hotels, restaurants, catering businesses, affiliates, start-ups and food production departments across the board. So, a student who completes their hospitality program has many opportunities in front of them.
Students from our BSc in Hospitality Studies program will be skilled for all operational and supervisory roles in the five core areas of the hotel industry (and affiliate sectors). Students will be able to take up operational and supervisory roles in areas related to food production and service. These would also include ventures where such positions lie outside the hospitality industry.
Food Production
Bakery and Patisserie
Food and Beverage Service
Front Office
Housekeeping
Rooms Division Management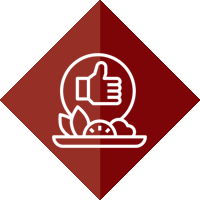 Food Safety and Nutrition
Communication Skills and French
Principles of Management
Hospitality law and Human Resources Management
Management Information Systems in the Hospitality Industry
Course Duration : 3 years (6 Semesters)