Bachelor of Science In Hospitality Studies
HOSPITALITY WITH VIRTUE CREATING CULINARY COMPETENCE
Shree L. R. Tiwari Degree College, Best College for Hospitality Studies at Mira Road
Offers B.Sc. in Hospitality Studies programme which imparts students with all the required skills, knowledge and attitude to proficiently discharge supervisory responsibilities in the hospitality sector and also involves in-depth laboratory work for students to acquire knowledge and skill standards in all core areas such as Food Production, Food and Beverage Management and Catering operations, General Management, Tourism Marketing, Human Resource Management, and Finance. Currently, there is a huge global demand for managers with expertise in hospitality studies. Our B.Sc. in Hospitality Studies programme will help you take advantage of all the opportunities in this exciting and quickly developing business since we are the top college for hospitality studies at Mira Road.  B.Sc. in Hospitality Studies is necessary to prepare students for success in the hospitality sector. This degree creates a roadmap and equips graduates to move up the corporate ladder professionally. The professional abilities that students are taught can be used in a variety of roles, which offers a comprehensive benefit for placement.
Students who successfully complete the three-year degree programme will find a wide range of employment options in the global hospitality business, including:
Hotels: Front desk executive, receptionist, host or hostess in fine dining restaurants, food courts restaurants, fast food joints, pubs, banquet halls, clubs, spas, recreation centres, shopping malls, and hospital management.
Hotels: Chef, Housekeeper, Rooms Division Executive, or a Food and Beverage Server.
professionals in the food and beverage industry who work in the airlines, cruise ships, institutional and industrial catering, and government-owned catering divisions (like armed forces mess, ministerial conventions and railways services).
Entrepreneurial start-ups(On or off premise Catering, Food delivery service, Specialty restaurant etc.)
LEARN WITH ONE OF THE TOP COLLEGE TO BECOME
A LEADER IN HOSPITALITY
The faculty at our institution is formed of eminent academics and top-notch business executives. To achieve excellence in all areas of professional education, the college has defined precise goals and executes a well-designed plan. The college is the top choice for learning HOSPITALITY STUDIES because of the dedication and involvement of our students and professors over the years.
We are educating our students to become future ideal professionals who can successfully pursue a career in the hospitality industry. We have partnered with top hotel companies to give them genuine market exposure. In addition to affiliations and connections, they are urged to participate in real event management and use what they have learned.
We offer cutting-edge infrastructure that meets the needs of prospective hotel professionals and enables them to develop their potential while learning the fundamentals of hospitality and culinary. To simulate actual hotel departments, practical labs with features including a restaurant, bar, basic training kitchen, advanced training kitchen, quantity food kitchen, front desk, and housekeeping have been constructed.
Students love to hang out in well-stocked libraries, where they spend the majority of their time learning new things. Students learn technical skills in computer labs so they can withstand the pressures of the business world and feel secure on the super info highway.
The enormous rise of the hotel industry in India is a direct effect of the booming tourism sector. Students interested in a career in hospitality should enjoy interacting with others and have a basic understanding of human needs. Anyone who wants to work in the hospitality sector can expect a successful future.
Food Production
Bakery and Patisserie
Food and Beverage Service
Front Office
Housekeeping
Rooms Division Management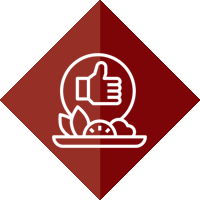 Food Safety and Nutrition
Communication Skills and French
Principles of Management
Hospitality law and Human Resources Management
Management Information Systems in the Hospitality Industry
Course Duration : 3 years (6 Semesters)